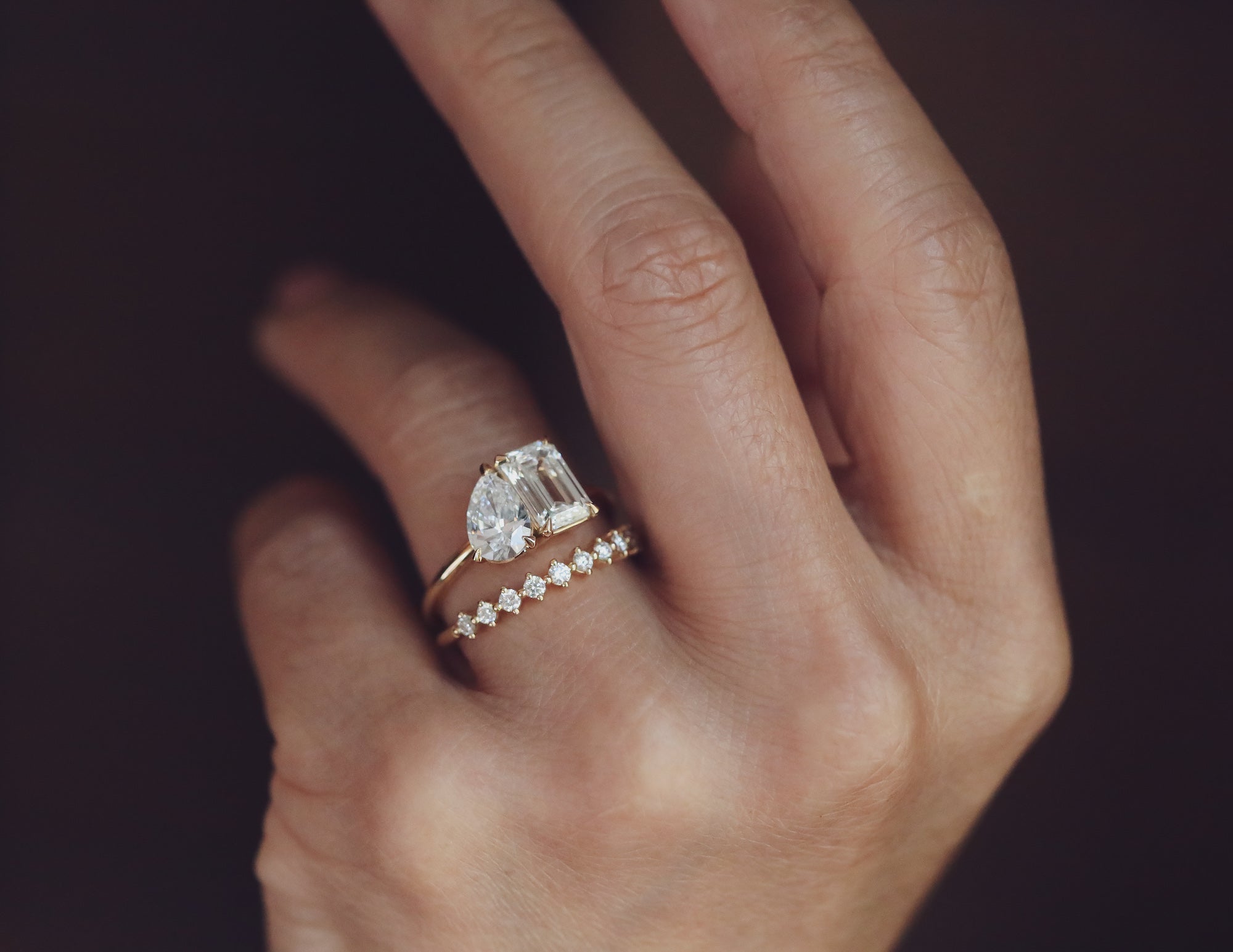 Our Frequently Asked Questions
Our team of knowledgeable consultants have answered some of the frequent questions we receive.
If you are looking for further information or would like to ask a question you don't see here, please reach out, as we would love to hear from you!
You can get in touch via hello@grewandco.com.auor visit or call either one of our boutiques in Sydney or Melbourne.
Consultations & Visiting
You're welcome to drop by our Sydney boutique for a walk-in visit anytime. If you plan to visit our Melbourne showroom, it's a good idea to give us a call or reach out beforehand. We're excited to meet you, so please don't hesitate to contact either our Melbourne or Sydney boutiques to schedule your visit.
At the moment, you can find all our pieces exclusively available at our boutiques in Sydney and Melbourne.
Absolutely! We have clients from all corners of the globe. We provide virtual appointments to better understand your preferences and interests. Whether you're eyeing a piece from our existing collection or have your heart set on a custom creation, we're here to assist you in discovering the perfect piece for you.
At both our Sydney and Melbourne boutiques, you'll find our complete range of wedding band styles. In addition, we share the pieces from our ready-to-ship collection across these locations. If you have your eye on a specific piece from our ready-to-ship collection and wish to see it in person, please notify us in advance, and we'll make the necessary arrangements to ensure it's available for your appointment.
We have a selection of stone options available for in-store viewing. Some of these you'll find in our Stone Library. If you have a particular stone in mind, the best way to explore your choices is by scheduling a stone viewing appointment. During this appointment, we will showcase a selection of stones that fit within your specified price range and are suitable for your desired design. It's at this consultation that we will provide you with a quote for the completed piece.
Indeed, we specialize in crafting curved wedding bands. Regardless of whether your ring has a high or low setting or if it was created by another jeweler, we have the expertise to create a tailored wedding band to suit your needs. To book your wedding band appointment, you can use the following links:
On OUr Custom Process
In our current ready-to-ship collection, you'll find a range of designs that showcase truly remarkable stones. We encounter these stones during our sourcing process and recognize them as perfect matches for specific designs. In addition to this collection, we provide a custom process tailored to your preferences. If you admire a design but seek a different center stone or a version that aligns with your budget, our custom process can accommodate these requests, making it possible to create your ideal piece.
Thankfully, we can determine your partner's finger size by examining a few photos of their hand. Your consultant will provide guidance on the types of photos required, and you might already have suitable ones on hand. After the ring has been presented, we can make any necessary adjustments to ensure the size is a perfect fit.
If you come across a design you adore, but it's no longer in stock, don't worry. We're here to collaborate with you through our custom process to bring a similar creation to life. Taking into account your budget and your preferred center stone, we'll arrange a stone viewing appointment, allowing you to explore various options
As part of our custom process, we offer the option to reset a stone from your heirloom piece. To maintain our high standards of quality, every stone we work with goes through a thorough assessment and approval process conducted by one of our in-house jewelers. This ensures that the stone is suitable for the resetting procedure and meets our quality criteria.
We exclusively use stones that we've either personally sourced or obtained from heirloom pieces suitable for resetting. Our commitment to upholding the highest standards for quality and integrity leads us to meticulously hand-select stones that meet or even surpass our exacting criteria, guaranteeing a superior finished piece.
Absolutely, we can accommodate your specific budget. Our Custom Process is designed to do just that. To begin, we'll need to know your price range and gather a bit more information about your design or stone preferences. Our goal is to present you with a range of options and inform you about what can be achieved within your specified budget. Naturally, this is contingent on stone availability and pricing.
Diamond Grading
Symmetry refers to how well the diamond's facets align with each other and how balanced the overall shape of the diamond is.
Diamonds with excellent symmetry have facets that are precisely aligned, creating a visually appealing and balanced appearance.
Symmetry is graded on a scale that includes Excellent, Very Good, Good, Fair, and Poor. An "Excellent" symmetry grade indicates that the diamond's facets are precisely aligned, and any deviations are extremely difficult to detect even under magnification.
Good symmetry is important not only for aesthetic reasons but also because well-aligned facets can enhance the diamond's brilliance and sparkle by optimising the way light interacts with the stone.
Polish refers to the smoothness of the diamond's surface, specifically how well the facets have been finished and how free the diamond is from polishing lines and other surface imperfections.
Diamonds with an excellent polish grade have a smooth surface with no visible imperfections. The absence of polishing lines and blemishes allows light to pass through the diamond unimpeded, contributing to its overall brilliance.
Similar to symmetry, the polish grade is assessed on a scale that includes Excellent, Very Good, Good, Fair, and Poor. An "Excellent" polish grade indicates a high level of craftsmanship in the polishing process.
Our Workshop & Lead Times
Our jewelry is proudly crafted right here in Australia, specifically in our Sydney workshop. Maintaining production in close proximity is a significant priority for us. We value the close collaboration with our team of skilled jewelers, which allows us to consistently meet the highest standards and deliver a quality piece, made to last.
We're more than willing to accommodate shorter lead times whenever we can. We recognize that there are occasions when you might require a piece sooner than you may have initially anticipated. If you have a specific date in mind, please don't hesitate to get in touch with us, and we'll provide you with information on what's feasible and discuss your options.
Returns & Shipping
As many of our pieces are made to order, certain terms & conditions apply, depending on the piece.  
See our full Terms & Conditions.  
It's always best to ask prior to purchasing, so do not hesitate to get in touch with one of our consultants.
We do offer international shipping as well as shipping within Australia.
All our packages are sent via express delivery and require a signature upon receipt. Please note that shipping rates and delivery times may vary from one country to another. Additionally, any customs charges, duties, and taxes are the sole responsibility of the customer and are not included in the cost of the order or the shipping charge. The specific taxes and customs fees depend on your country and the value of the item(s) you are ordering. If you have any queries about the applicable taxes and customs fees for your location, we recommend reaching out to your local customs office for clarification. You can read more on shipping here.